Children's Technology Workshop
What: Children's Technology Workshop
Where: 8th NS Road, Juhu
 Age groups: 5 to 15+ years
Over the last few years Robotics classes have become a big draw for kids, with the starting ages getting younger and younger. Now, I have always been sceptical of these classes and wondered how children as young as 6 years of age can even begin to comprehend the subject! A few months back, a casual conversation with a friend led me to believe that it is perhaps my personal phobia of science and gadgets that is influencing my view, rather than cold hard facts. Surprising, as I pride myself for believing that one is never too young or too old for anything! So, why should robotics be any different? With an open mind, I decided to give Robotics a chance and headed to Children's Technology Workshop (CTW) at Juhu.
CTW, Mumbai, is a licensed franchisee of the Canada-based global company of the same name and offers Robotics programs for children in a dynamic and fun environment. CTW has carved a niche for itself and is a regular participant in the India Robotics Olympiad and the World Robotics Olympiad, and has won awards at various levels. I met Mrs. Asha Sundararajan, an energetic, passionate lady who brought CTW to Mumbai. At CTW, every child has an independent workstation and computer and is assisted by faculty to build a model individually and independently. Programs are age-appropriate; children aged 5-6 years start with simple models involving screwdrivers, hooks, scoops, pulleys, gears and axles and gradually move on to the more complex mechanisms that involve motors, sensors and USB hubs. Older children use systems like the Lego MindStorms NXT and special robotics systems to build larger complex machines. Each class is of 90 minutes duration, in which time the child usually builds one complete model in the initial programs.
After my conversation with Asha and my visit to the workshop, I decided to give Robotics a chance and enrolled my 7.5 year old son for a program. During his first few classes, my  son built the following models, one in each of class: dancing birds, smart spinner, drumming monkeys and roaring lion. The process involved making a Lego model and then introducing various mechanisms to enable movement, action or sound. My son thoroughly enjoyed the classes and now when he talks about it, he is all animated and excited. He is more than happy to use his Lego blocks at home to try and explain to us what he did in class.
One of the best things about this program is that unlike some classes which like to keep their goings-on shrouded in secrecy, Asha invites parents at the end of each class to come in and have a look at what their ward has created- each time I went to pick up my son, he proudly displayed his work of art (or should I say science).
Watch this video of children from CTW building an air hockey model for the visually challenged, using Lego robotics.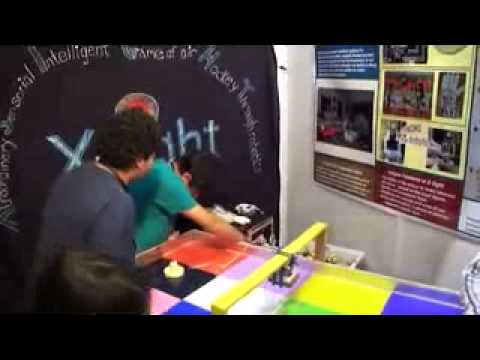 Learning Robotics helps hone many aspects of a child's personality besides elucidating various academic principles like Newton's laws, force, energy, friction, and mechanical working of gears, levers and pulleys. The entire process involved in executing a single model channelizes a child's focus and creativity. It involves visualization of models and mechanisms to make them work and helps clarify abstract Math and Science concepts. Children appreciate the scientific processes involved and enjoy the sense of achievement in creating something in a fun, stress-free atmosphere without having to cater to any competitive demands.
Asha believes in structuring the classrooms so as to ensure a mixed age group of children working alongside each other. Her philosophy is based on her Montessori experience which follows a similar mixed-group working as she believes this helps children learn through osmosis; it further clarifies concepts for the older children and provides the younger ones with the benefit of added experience and guidance of their older peers.
After my vicarious experience with CTW, I would like to enrol for their program and exorcise my fear of science and gadgets!
(Our reviews are independent and based on personal experience. Drop a comment here if you want to contact CTW and we will forward your request to them. If your child has attended these classes or you have something to say, leave a comment so as to benefit other parents)
Related posts: